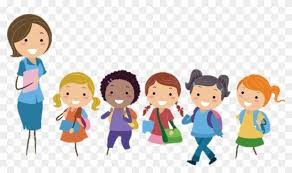 The following pages contain information for each class at Wistanstow C of E Primary School 
Autumn Term 2021 
Welcome to Class One at Wistanstow CE Primary School and welcome back to the Year One children! This newsletter is intended to give you a quick overview of what's happening this term.  If there are any major changes to the weekly schedule we will inform you so please keep your eye out for letters in bookbags. Your child will be taught by Miss Peters and Mrs Russell. Miss Peters will be teaching in Class One on Monday's, Tuesday's, Wednesday's and Thursday afternoons. Mrs Russell will be teaching Wednesday afternoon's, Thursday mornings and all-day Friday.
Our learning this term – For the first few weeks we will be busy settling your children in, seeing where they are up to in their learning and providing lots of opportunities for play and learning. Our topic this term is 'All About Me', more information about what we are covering in class will be found in the Autumn term newsletter.  
Snacks – Your child will have a mid- morning snack provided by the school so there is no need to bring in any snacks.
Water bottles – Your child will need to bring a water bottle in every day. Please make sure these are clearly labelled with your child's name.
Lunches – Your child is entitled to a free school dinner for the first three years of school.  Each morning your child will choose what they would like off the menu. If you are sending your own in, please name the lunch box. 
P.E. – P.E will be every Monday and Wednesday so please come dressed in P.E clothes.
Homework – It is an expectation that children read at home 10 minutes a day. We will begin to send homework in a few weeks but further details will be provided.
Reading –  Over the next few weeks, we will be assessing where all the children are up to with their learning across the curriculum including socially, verbally, artistically, mathematically etc.  Reading and writing skills will also be assessed and your child will bring home a reading book twice a week and we will normally change reading books on a Monday and a Friday.  Please make sure your child has their reading book in their bag, as we will not be able to give them a new one if they are not returned.  Reading is a partnership so we need you to write a comment when you read with your child.  Please read with your child for 10 minutes a day. If a child reads at home 3 times a week they will receive a reward.  
If your child is in Reception we have provided picture books for you and your child to talk through, discuss what they think might be happening and make predictions. We teach daily phonics sessions where we focus on a specific sound a week. Once your child is familiar with these sound's we will begin to give out word cards or books with words in. Reception children will take home their sound of the week so please look in their bookbag's for this and practise it at home. Year One children will be revising previously taught sounds and focus on a few a week. Book levels will continuously be assessed throughout the year.
Your child's bookbag will need to be in school every day, this is so we can check Reading Record's or give out any letters.
Please NAME EVERYTHING!
We're really looking to all our adventures and learning in Class One!
Kind regards,
Mrs Russell and Miss Peters
Reception Topic – All About Me
English

Daily Phonics

Guided Reading Activities

Studying Fiction - Pinocchio

Maths

Year One
Place Value

Addition & Subtraction

Shape

Reception
Recognising Numbers
Shape

Science

Animals including Humans

Investigative skills focus: Plan an investigation, Gathering data

Hist/Geo

What is the geography of where I live?

Local area and recognising physical and human geographical features

RE

God the Creator – The Creation Story
(Christianity)

Music

Nursery Rhymes
Singing/ Performance - Harvest

Art/DT

Art

Self Portraits

Collages – Using different materials and textures

Colours – Experiment with mixing colours
Autumn Term 2021
Welcome back Class 2, it is lovely to see you all again year 3 and to welcome year 2 into our class.
This letter is to recap some of the class routines and tell you about any new ones.
Adult working in Class 2
Mrs Griffiths will continue to work Monday to Friday mornings and Monday and Wednesday afternoons.
Mrs Russell will be teaching Tuesday afternoon. Mrs Spence on a Thursday and Friday afternoon.
We are supported every day by either Miss Pinches, Mr Barrow or Mrs Pinches.
P.E
P.E is on a Tuesday and Thursday afternoon. Children are to continue to come to school in their kit on these days. If your child is unable to tie their laces, please send them in Velcro trainers.
Drink bottles
Please ensure your child has a drink bottle every day. (water only)
Coats
As we are approaching the colder/ wetter time of year please can you ensure you child has a coat.
Reading
Please hear you child read regularly, just 10 minutes a day will make all the difference. In class 2 the children are encouraged to become more independent with their books and changing them. Please let me know if they haven't! Reading diaries are for recording what they have read. Your children can write in this as well as any adult hearing them read. To encourage a love of reading your child may bring home a "book to share" which is for you to read and talk about with them. Please can their reading book and reading diary come into school every day.
Recorders
Every child will be given their own (new)recorder for Music on a Monday afternoon. The children are allowed to bring them home to practise but they must be in school every Monday as due to Covid they will not be able to borrow a spare.
We are looking forward to a productive, happy and fun term.
Kind regards
Mrs Griffiths, Mrs Russell and Mrs Spence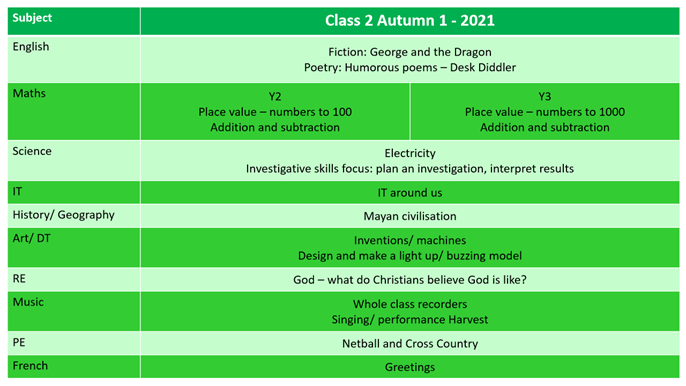 Autumn Term 2021